About The Koch Law Firm P.C.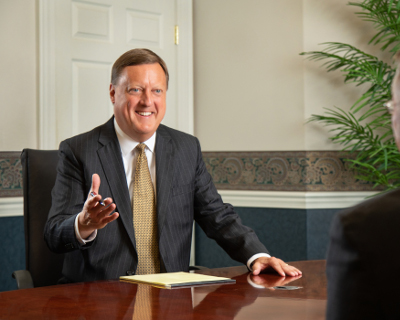 Mission Statement
Our Mission is to provide our clients with integrated and innovative legal solutions, vigorous advocacy, and superior legal representation consistent with our Core Values.
Core Values
In furtherance of our Mission we are guided by the following principles:
Our clients' interests are paramount. We pursue their interests with vigor and hard work.
We are guided by a strict adherence to the ethics of our profession as set forth by the Indiana Rules of Professional Conduct, as well as the values of our respective religious faiths.
Our legal services shall be cost-effective for our clients. We use technology, modern management procedures, and the application of our experience to minimize costs wherever possible.
We are both counselors and advocates. We communicate in clear language and advise, as well as represent, our clients. We explain what we do, why we do it, and the value our services bring to the client.
Our clients deserve our personal and timely attention. A client's call - absent exigent circumstances - should be returned within one business day. Appointments should be promptly scheduled and commence on time. Technology such as email, voice mail, and cellular telephones are used to facilitate communication convenient for the client. We promptly reply to requests for information and keep our clients informed about the status of their cases.
A client's confidence shall never be breached. The attorney/client privilege is the cornerstone of our profession. Only through the confidence built by that trust can our relationship with a client be effective. Improper disclosure of a client confidence is grounds for immediate and permanent termination.
When our clients succeed, we succeed!
We learn, educate, and apply ourselves to working together as an interdependent team.
We respect and assist each other by communicating and sharing our ideas and concerns, learning from each other, and thereby increasing our quality and effectiveness.
We interact with our clients, our adversaries, and each other courteously and professionally. We take pride in our work and support each other in a positive manner.
Through continuous education, evaluation, teamwork, and enthusiasm we attain personal and financial growth for ourselves and our clients.
We use our experience to anticipate outcomes by applying precedent and emerging law. We serve our clients best by anticipating and preventing problems before they occur.
We attract, develop, and retain exceptional professional staff to assist our attorneys.
We strive to make lasting relationships with our clients.
Attorney
Recovery Division
Paralegal
Legal Assistant